Flower Bouquets
Page:
Home >
Hand Tied Flower Bouquets
Coronavirus (COVID-19) Update
We are now available to take your order via phone or online. Please call us on 01344 624012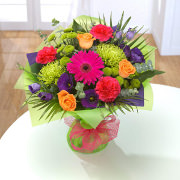 Vibrant Bouquet
includes pink Gerbera and zesty green Chrysanthemum Roses and Lisianthus.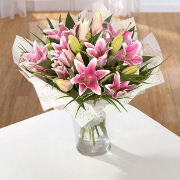 Sumptuous Lilly Handtied
Simply Lilies - a vase full of pink Oriental Lilies with mixed foliage.